Wednesday, May 27 2020
GURU POORNIMA - 6 JULY 2009

---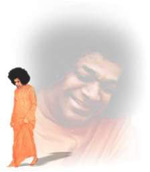 My Humble Pranams at the lotus feet of our beloved Bhagawan Sri Sathya Sai Baba. Sai Ram uncles, aunties, brothers and sisters. I'm Jashreena Samtani and this evening, we will explore the real meaning of a guru and we will understand why we celebrate Guru Poornima.

Every year, we celebrate Guru Poornima to thank and recognize the important role played by our guru in shaping our lives, making us who we are. Guru Poornima is celebrated every year, on the day of the full moon, in the month of Ashad, which is between July and August.

This is a very sacred day on which special worship is performed to the Gurus, who, through their infinite compassion and supreme grace, have imparted the knowledge of the Absolute to all the seekers of the self. This year, Guru Poornima falls on the 7th of July 2009.

But first, who is our guru? What defines a guru spiritually? When God assumes a human form, he establishes Himself as the Guru. Guru is manifested God, which is perhaps the most favourable definition of the word, as Swami has said, a true guru is capable of enjoying and spreading supreme happiness. A true guru is not one who teaches Mathematics , Science and English in school.
Those are merely teachers. A true guru has neither a birth nor a death, neither a beginning nor an end. A guru is Brahma, Vishnu & Mahesh –as he is the creator, he is omnipresent and he commands all that happens in the universe.
In the guru mantra , where summarised and simplified gives us the message that the Guru is the God of creation , the god of sustenance, the God of destruction, and of course, the supreme god. That in essence, is the true meaning of the Guru.
Now, to some of you this may seem airy-fairy and not something that would come out of a nine –years- old's mouth. Well,what a guru means to me, simply, is someone who leads me , on the path of good, into becoming a good student, a good sister and a good daughter . I may be too young to accept and realise that God is the only Guru but I might in the coming future. For now, my gurus are my SSE teachers who guide and impart spiritual knowledge in my friends and I , my school teachers who impart academic knowledge in me and definitely my parents, who have nutured me into becoming who I am today.
Thus, on this great and auspicious day of Guru Poornima, I Jashreena Samtani of Group 2, will like to thank all my teachers and my parents for all they have done for me and my gift to them is to try to be better at what I do, listen to them and be a good girl. Thank you and Jai Sai Ram.

JAI SAI RAM
Sis Jashreena
Group 2