Tuesday, Sep 26 2023
WHERE IS SWAMI
---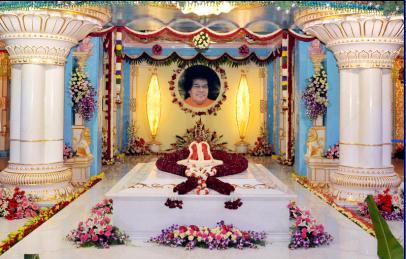 Mahasamadhi
Swami is in your heart
Sathya Sai Baba has said to many people that,
Prasanthi Nilayam is not my home; my home is in your heart.
He is the God within us, the inner soul of all of us -omnipresent, everywhere, at the same time SWAMI IS IN YOUR HEART
Mahasamadhi
Mahasamadhi (literally, great samadhi) the realized conscious departure from the physical body. Bhagawan Sri Sathya Sai performed Mahasamadhi at 7:40AM on 24 April 2011.
Mahasamadhi also refers to the shrine where the physical body is buried.
The Divine Physical Frame was placed in a specially made vault, 7 feet by 12 feet, on the very podium that Bhagawan used to adorn during His darshan sessions, on the verandah of the mandir in Prasanthi Nilayam on the morning of 27 April 2011. This is the Mahasamadhi of Bhagawan.